Jens Stibal has been passionate about chambermusic since early adolescence. He gives concerts in duo with violin, violoncello, viola, flute, vocals, accordeon, stringquartet, speakers, in combination with other guitarists (duo, trio, quartet and sextet) and with organ.
In permanent cast, he plays with violinist Oliver Kipp (member of the Hannover Radio Philharmonic Orchestra) known as 'Duo Sevdana', in a guitar sextet called 'guitarra a seis' and as conductor and leader of the Zürich youth guitar ensemble (ZJGE).
GUITARRA A SEIS, guitar sextet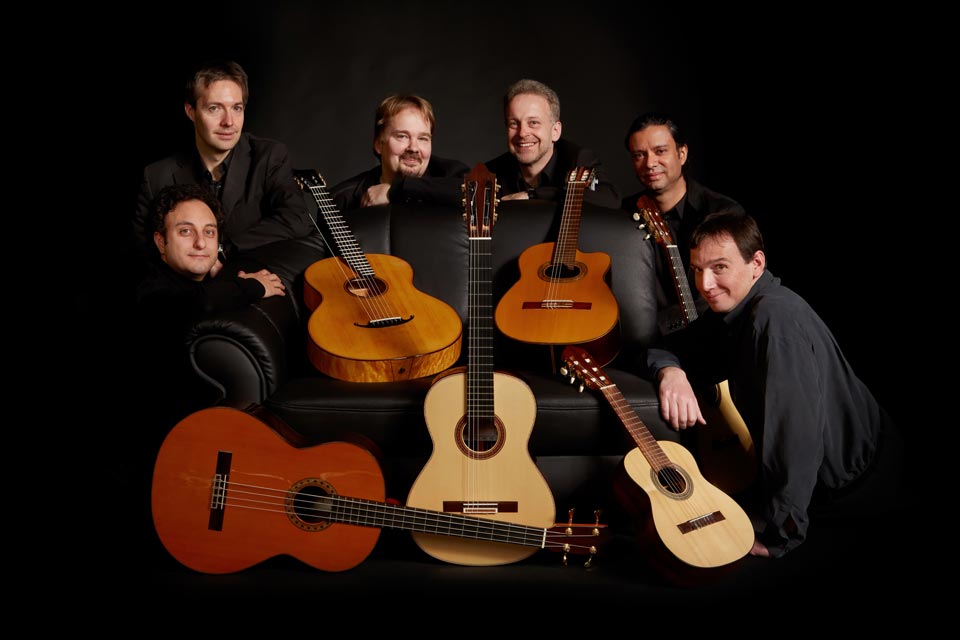 This unique guitar sextet consists of renowned German, Swiss, Italian and Brazilian guitarists, all of them teaching at Swiss music schools and music high schools:
Jens Stibal, Pino Feola, Matthias Kläger,  Harald Stampa, Christoph Borter, und Edmauro de Oliveira.
For the interpretation of their own transcriptions from different epochs and trends of music, as well as for the ensemble of newly composed works, they use a wide range of instruments, occasionally also using octav-, third- and bassguitar, requinto and quintguitar. Their repertoire includes a Brandenburg concerto by Johann Sebastian Bach, the 'swinging sextet' by Tobias Krebs (first release 2013) wich was specially written for the ensemble, Astor Piazolla's Tangos, as well as music by Alberto Ginastera and Frank Zappa.
DAS ZÜRCHER JUGEND GITARRENENSEMBLE
The Zurich youth guitar ensemble has been in existence since 2007 and is an ensemble of the music school conservatory Zurich MKZ. This ensemble enables ambitious students of the classical guitar to play music in a ensemble at a high level. Furthermore, it is also part of the guitar training in their prestudies at ZKKJ, as well as for the 'arts & sports' (K & M) grammar school. In the current cast, there are 12 young guitarists from Zurich, Thurgau, Basel and Aargau. Many of the members are award winners of youth music competitions.
In April 2009, the ensemble toured through Holland and in 2010, a CD titled 'Together' with music from Bach, Piazolla, Gershwin and Debussy was released by Trekel Records.
Die CD des Zürcher Jugend Gitarrenensembles
In April 2014, the ensemble went  on a second tour and gave concerts in Cologne, Wuppertal (at the music high school) and at the customs union in Essen.
DUO SEVDANA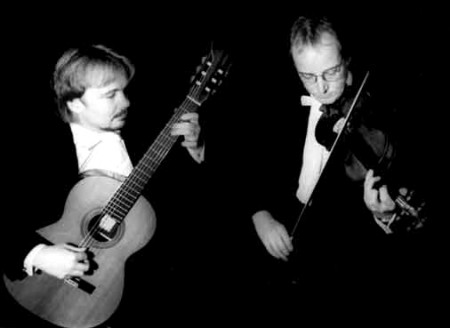 The duo named itself after the discovery of a composition called 'SEDVANA', written by the Bulgarian composer ' Tcherkine'.
Both musicians of the duo grew up in Hameln ( Germany) and played music together as adolescents in various formations. Since 1993, they are in permanent cast playing as duo SEDVANA.
Chambermusic combined with the guitar is not unproblematic. There is no vast literature existing and if there is, the guitar part is only sparse. Usually, violins sound louder than guitars and this is the main reason only few violin- guitar ensembles exist.
Duo SEDVANA tries to pursue new paths. As a result of long lasting collaboration with chamber music, the duo has perfected its musical interplay, allowing them a certain degree of musical liberty seldom met in such casts.
Regarding the repertory, both musicians try to find and work on music which allows both instruments an interesting part to interpret. Therefore, their repertory contains a plurality of new and rediscoveries of Ravi Shankar, Piazolla, Hristokov, Tcherkine (the most popular piece in Bulgaria, SEDVANA to which the duo owes its name), de Falla, Smith Brindle, Ourkourzunov, Granados and more. In this way, they gladly trespass musical treshholds.
Last but not least, duo SEDVANA is an extraordinary duo, as here we have two really excellent and technically as well as musically equal chamber musicians at work, who obviously have fun playing duo.
Composer Atanaz Ourkouzounov composed some music for duo SEDVANA called 'Sonatina Bulgarica', which world premiere was performed by duo SEDVANA and meanwhile belongs to the standard repertory for this kind of cast.